9.2.2. Creating Item Sales Report by Using Product Tag
9.2.2. Creating Item Sales Report by Using Product Tag

1. What is Item Sales Report Based on Product Tag Groups?
2. Creating Product Tag Captions
3. Grouping Products by Tagging
4. Creating New Report
1. What is Item Sales Report Based on Product Tag Groups?
Product Sales Report Based on Product Tag Group: In default SambaPOS settings Product Sales Report is created according to group codes that defined in the product list. In some restaurants Product Sales Report might be requested based on different categories (Group Codes).  It is possible to create Product Sales Report in different categories by creating item tags.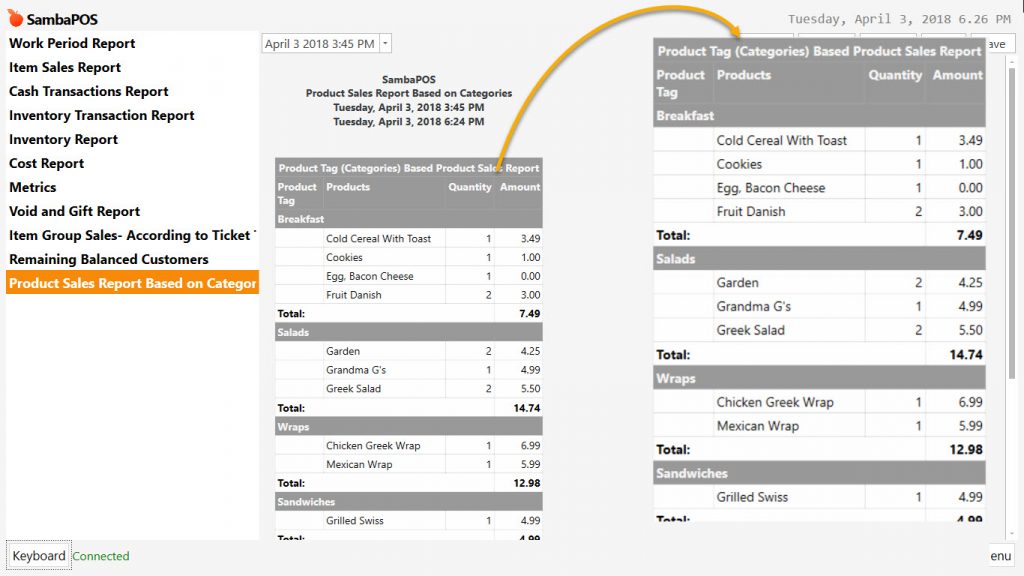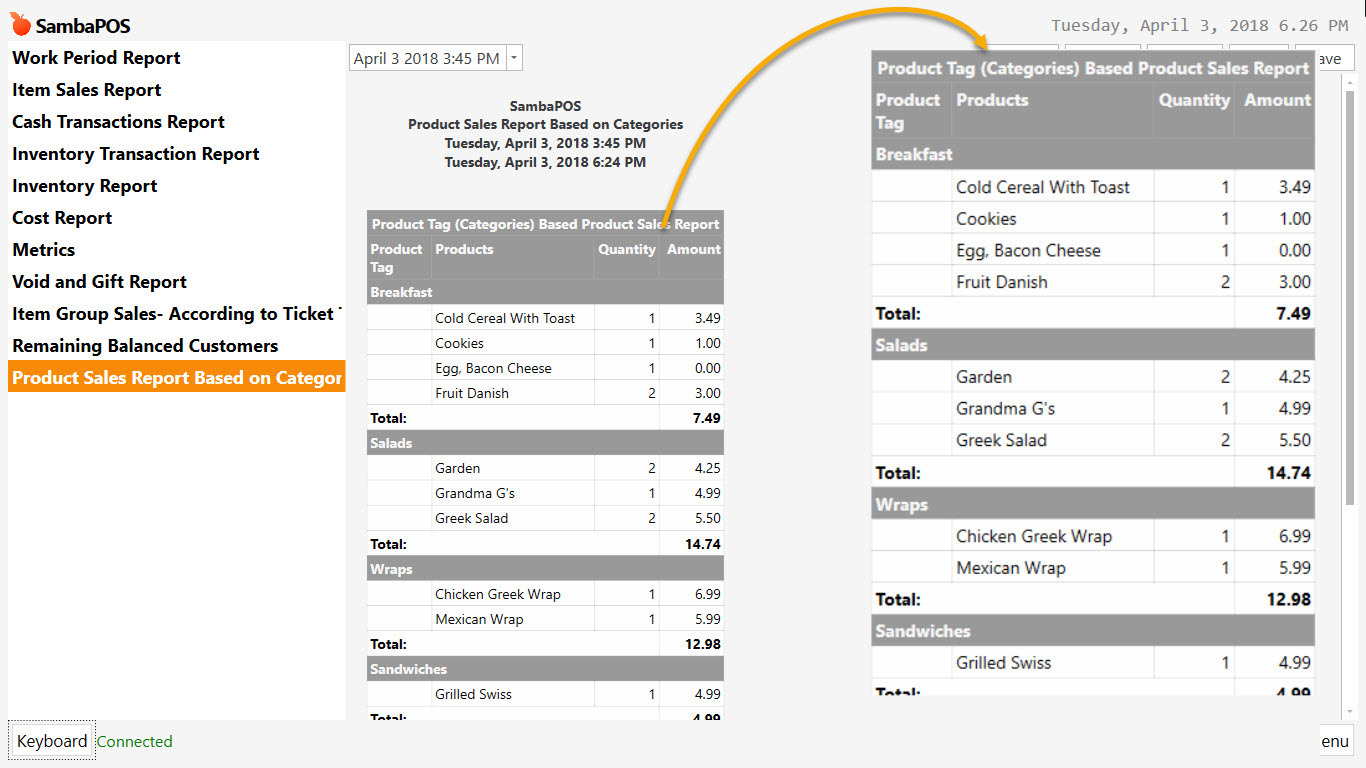 2. Creating Product Tag Captions
Manage > Settings > Program Settings > General Settings > Product Tag Captions (Edit) > Product Sales Categories
Note: It is possible to select a proper caption as tag caption according to need.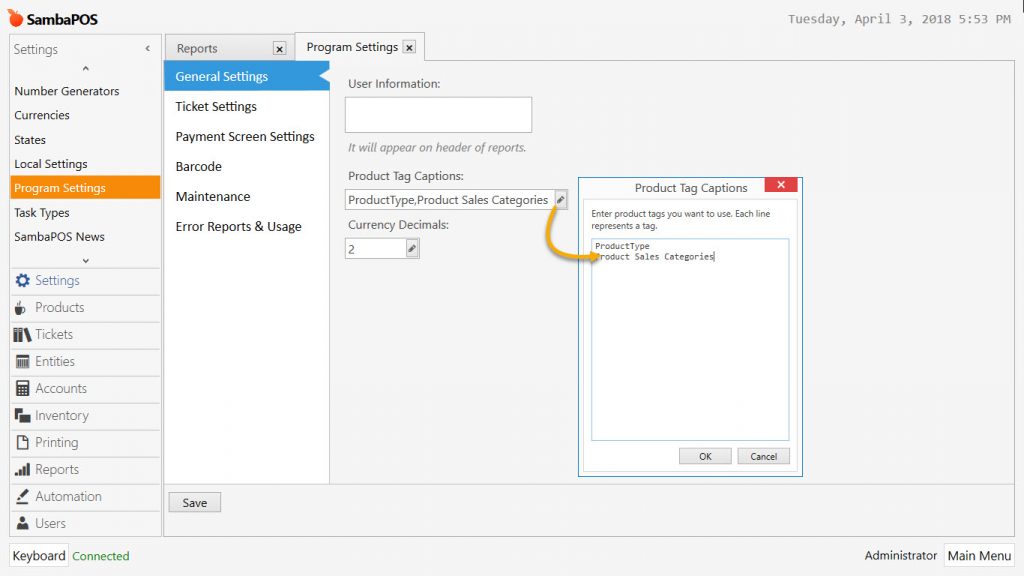 3. Grouping Products by Tagging
Manage > Products > Product Tag Editor Product Sales Categories
Save by adding categories / Groups for products into related tag caption. Save the categories into related product line instantly.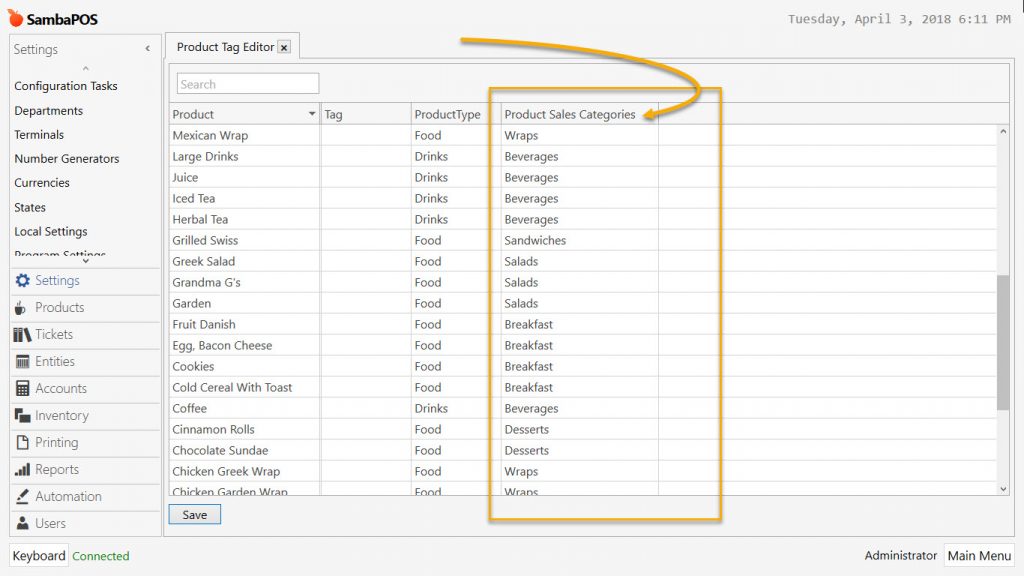 4. Creating New Report
Settings > Reports > Add New Report
Report Name: Product Sales Report Based on Categories
Display in Report Explerer [X]  Navigation > Reports if desired under the Reports menu, mark this box.
Template:
[Product Tag (Categories) Based Product Sales Report:2,5 , 2, 2]
>Product Tag|Products|[N]Quantity|Amount
@{REPORT ORDER DETAILS:MT.Product Sales Categories,O.Quantity.Sum::{0}:,}
>>$1
{REPORT ORDER DETAILS:,OT.,M.Name.asc,O.Quantity.Sum,O.ExactTotal.Sum:(MT.Product Sales Categories=$1)}
>Total:|||{REPORT ORDER DETAILS:O.ExactTotal.Sum:(MT.Product Sales Categories=$1)}