5.5.9. Usage of User Control Panel cp.sambapos.com
5.5.9. Usage of User Control Panel cp.sambapos.com
Document Index
1- Login
2- Password Reminding
3- User Portal
4- Purchasing Product from Store
5- Clear Key
6- Settings
7- Logout
1- Login
Users can login cp.sambapos.com account by approved e-mail address and password. User e-mail and password is also license e-mail and password. Password will be sent to user's e-mail address after creating a user account by authorised reseller or SambaPOS.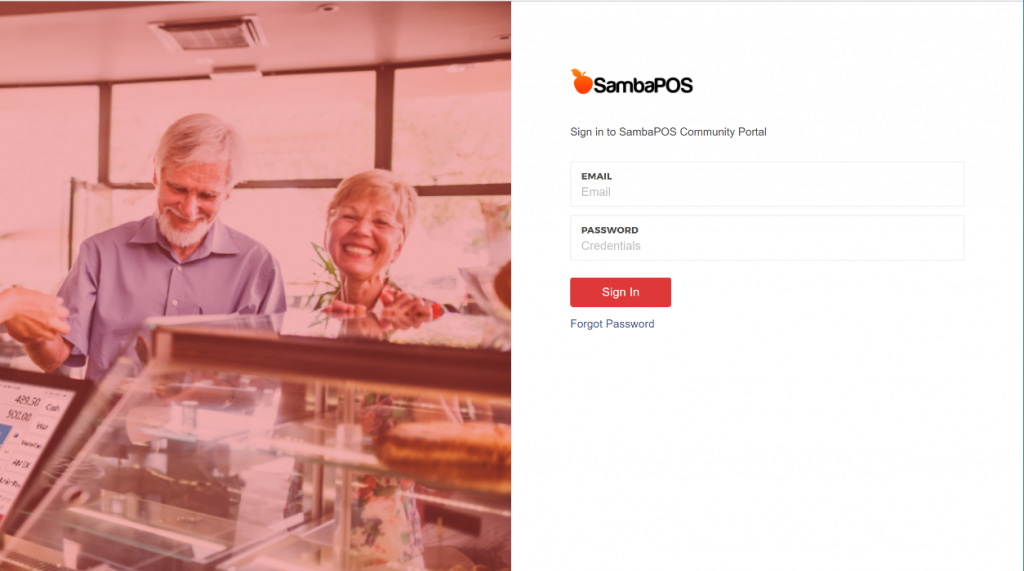 2- Password Reminding
Click on Forgot My Password link for password reminder. In the new window, type registered e-mail. From the e-mail address click on password refreshing link and create new login password.
Note: After re creating password, it is necessary to perform the Clear Key process in order to remove previous settings.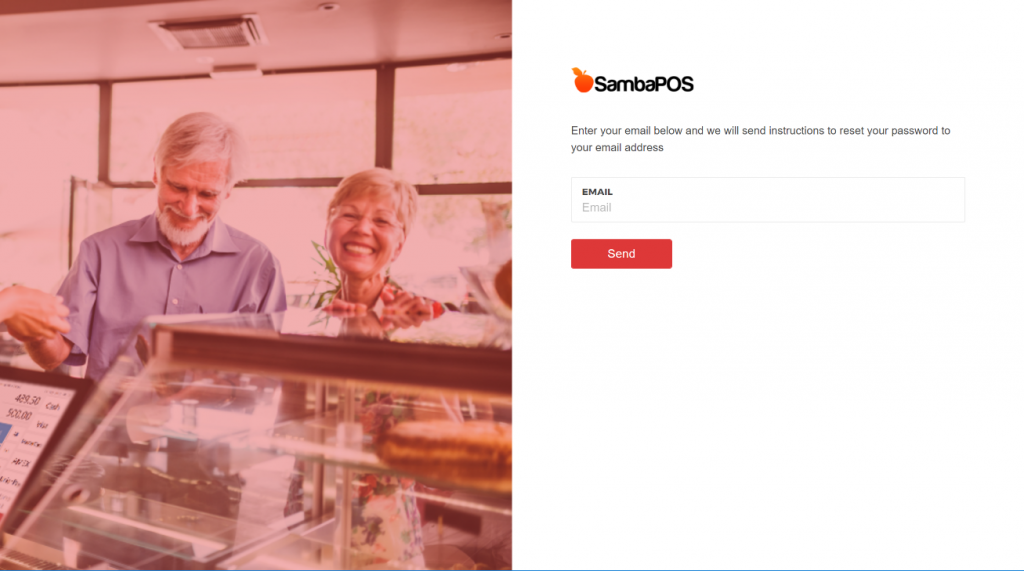 3- User Portal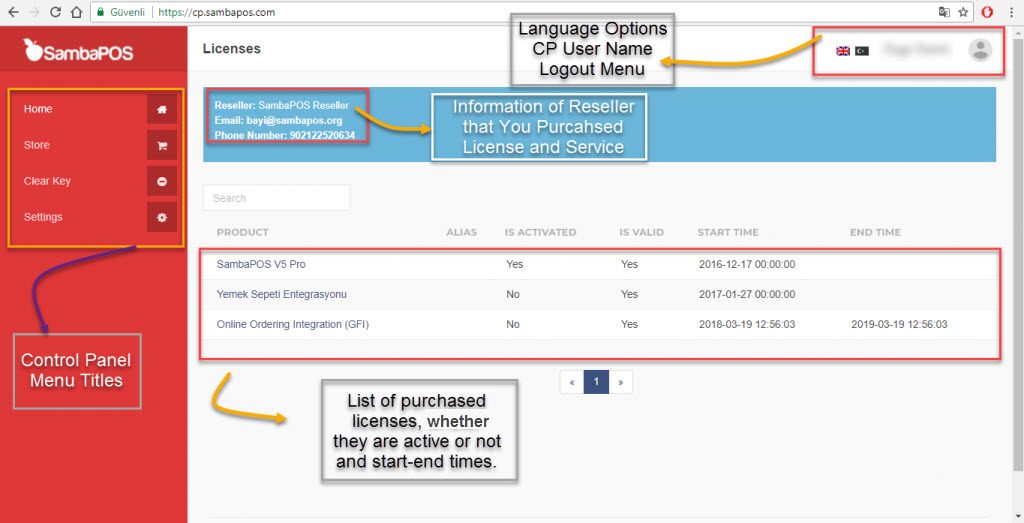 4- Store (Purchasing Product)
The products which can be purchased, will be listed on Store page. After determining the amount of products to be purchased, add them to shopping cart.
Display details of the cart.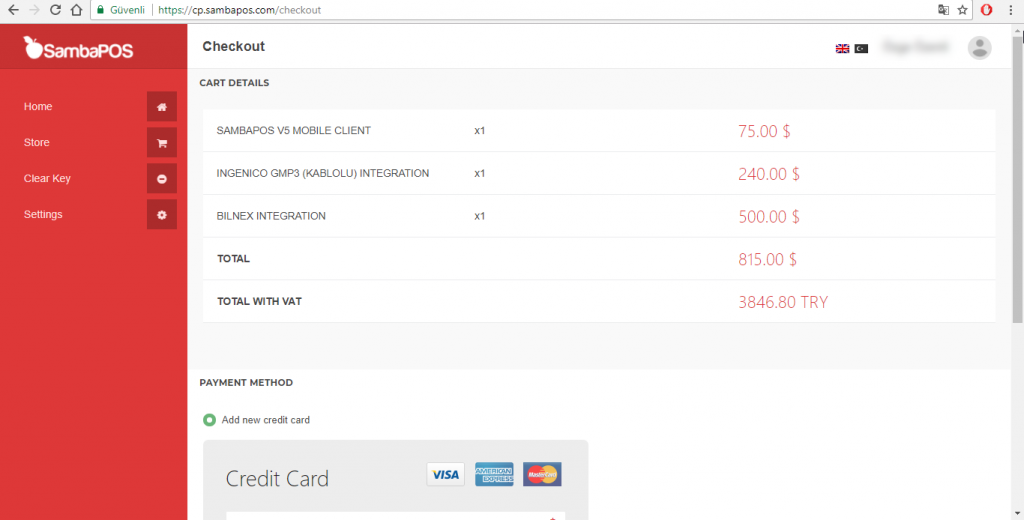 Display payment page for the purchase. After comleting payment by providing necessary information, license details will be sent to registered e-mail address. Activations are supposed to performed by the user.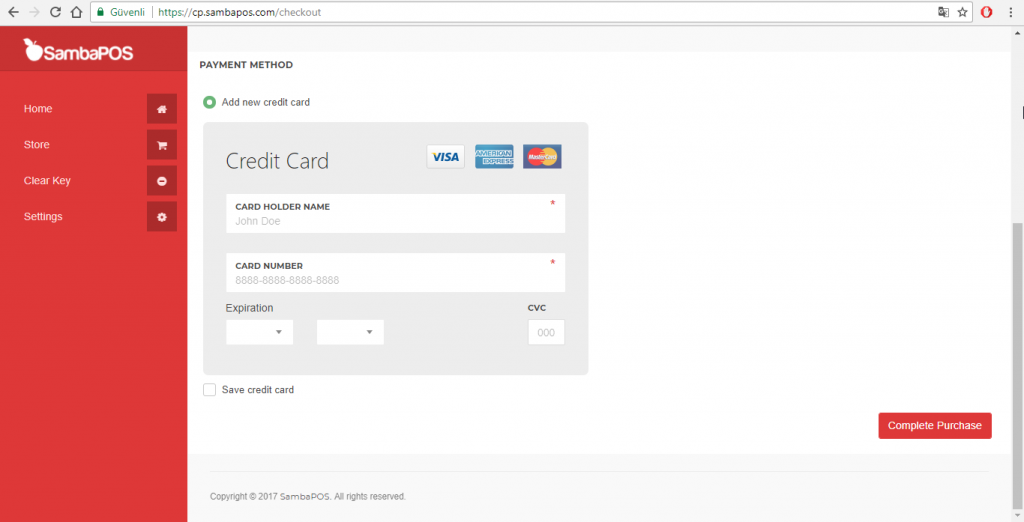 5- Clear Key
In cases of changing database or computer, it is necessary to clear the registered previous license key. If you see Unregistered Trial Mode warning, you are supposed to perform clear key process.
After clicking on Clear Key button, click on Yes button on the confirmation window.
Note: After clear key process, login SambaPOS and write user name (e-mail) and password into Samba Market. Click on Activate button. Logut and Login SambaPOS so that license activation process will be completed.
6- Settings
Users can adjust their information in this page. Settings section includes 3 different parts. After updating information click on Update button and complete the process.
6.1. Company Settings
Company Name
Commercial Title
Chain
Sector
Country
City
Phone Number
Neighbourhood
Tax Office
Tax Number
Address
6.2. Profile Settings
E-mail
The e-mail that license activation has been made through. It can't be changed later on.
Manager First Name- Last Name
Owner of the restaurant, manager or the authorised person who will be in touch continuously with SambaPOS.
Manager Phone Number
The phone number that will be communicated continuously.
6.3. Password Settings
License activation and cp.sambapos.com user panel password changings are performed in this field.
Password
Confirm Password