5.5.5.a. An Overview of Basic Reports
5.5.5.a. An Overview of Basic Reports
In order to check reports in SambaPOS, you need to login with authorised user password after that go to Reports menu from navigation screen.
Note: Reports and Statements are different things.
Report: Data is used for getting result within the framework of previously created criterias.
Fixed Statement: Data is used for detailed listing according to process ranking without using any condition or filter.
Moving Statements: In the user interface it is used for getting desired results instantly by using filters, conditions and parameters.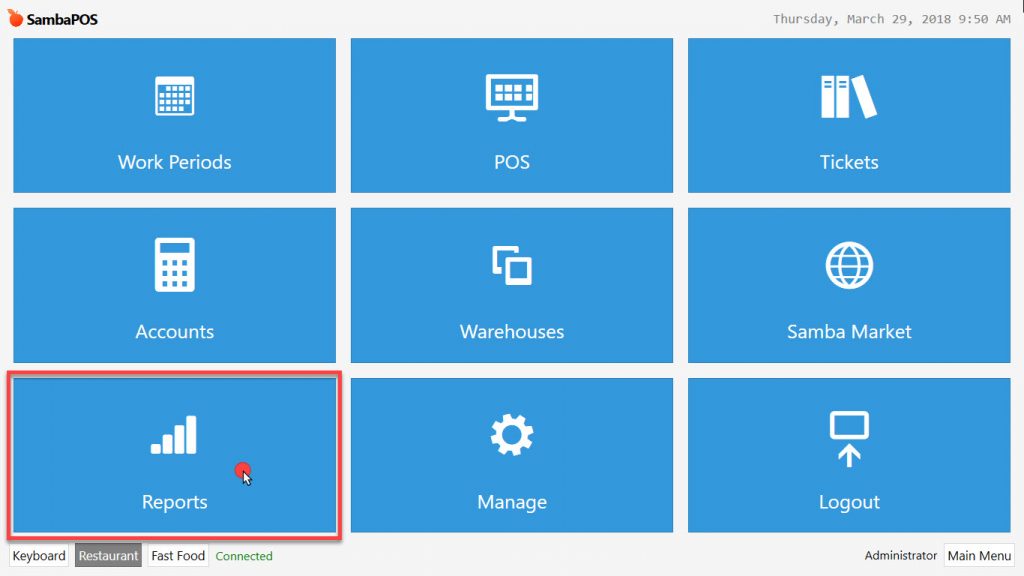 General Information About Reports
Restaurants have different operating styles. SambaPOS produces and stores data by ensuring full compliance, thanks to its customizable functions and interfaces. Conclusion step of stored data is reporting.
Reporting is last and interpretation phase of SambaPOS system. It is one of the most important phases. During the reporting phase, SambaPOS database tables are used. The most important ones of those tables are; Tickets, Orders and Payment tables.
In the reporting function, saved, classified and summarized processes come to conclusion through tables. Data related to processes and events that are designed, saved, classified, summarized, analyzed and interpreted through SambaPOS Custom Report, is presented to people and establishments that are related to restaurant.
These people and establishments have different reasons to be interested in those data. This is why reports need to be presented in a standard, global and understandable way. Restaurant will make decisions about its future according to these reports.
In the reports all kinds of results are revealed so that it becomes possible to make interpretation about the restaurant.
In the default SambaPOS setup, there are 6 pieces of basic reports. These are; 
Work Period Report
Item Sales Report
Cash Transactions Report
Inventory Transaction Report
Inventory Report
Cost Report
In SambaPOS, reports are created between Start Work Period / End Work Period date and time ranges. It is possible to get desired date's report by clicking on date indicator section.

By giving general item sales report, it shows all details since the last started Work Period.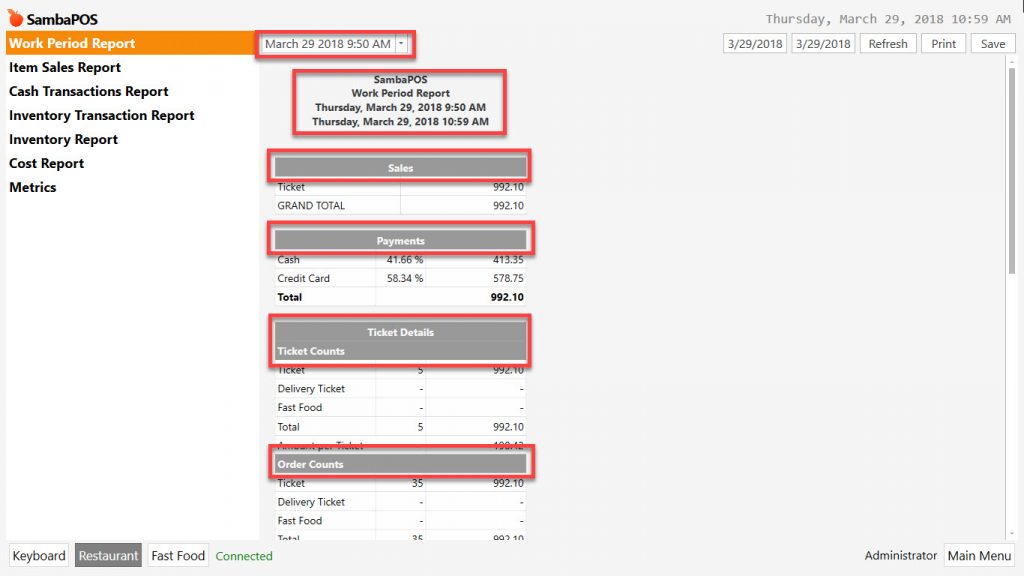 In order to get report of a specific date range, you can select desired dates from upper right side and click on Refresh button.
It is possible to print to tasked printer by clicking on Print Reports button.
Reports can be saved in XPS format by clicking on Save button.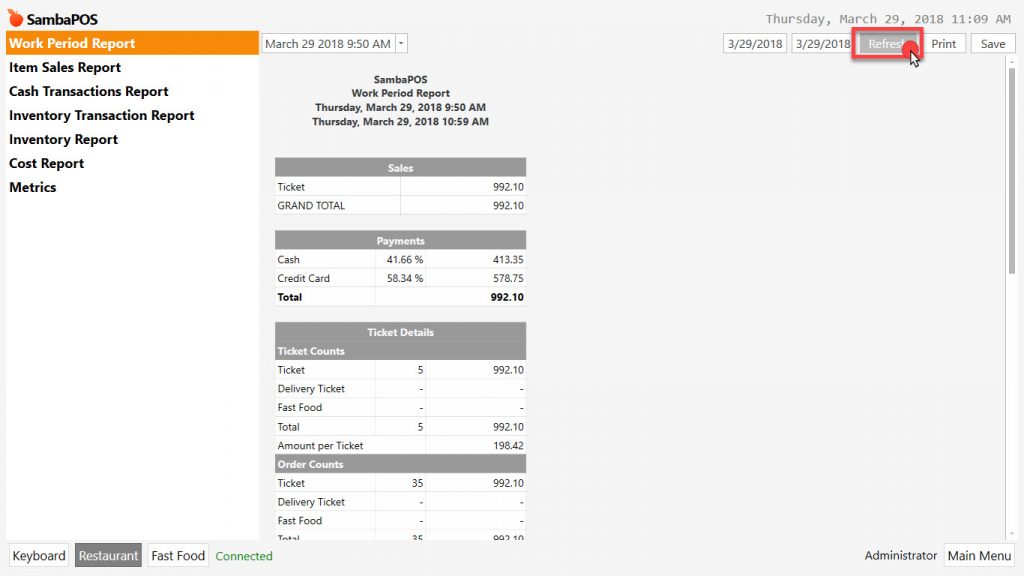 It is possible to change restaurant name on report titles from Management Menu.
---